No matter who you were cheering for I think we can all agree that Super Bowl XVII was one for the books.  Leading up to the game there was the family drama of the Harbaugh Bowl, the controversy surrounding Ray Lewis, not to mention the fact that both the Ravens and the 49ers were underdogs. The game itself proved equally exciting- the Ravens trounced the 49ers in the first half 21-6, Beyonce rocked out on the stage during half-time, Jacoby Jones made a record-tying 108 yard kick-off return touchdown, there was a 34 minute game delay due to a power outage, and then the Ravens (the underdog underdogs) won. Success during yesterday's game depended on flexibility and endurance.
Within minutes of the lights going out, while the CBS sideline reporters struggled to put sentences together, Oreo seized the opportunity to tweet out what buzzfeed calls, " a perfectly zeitgeisty" ad.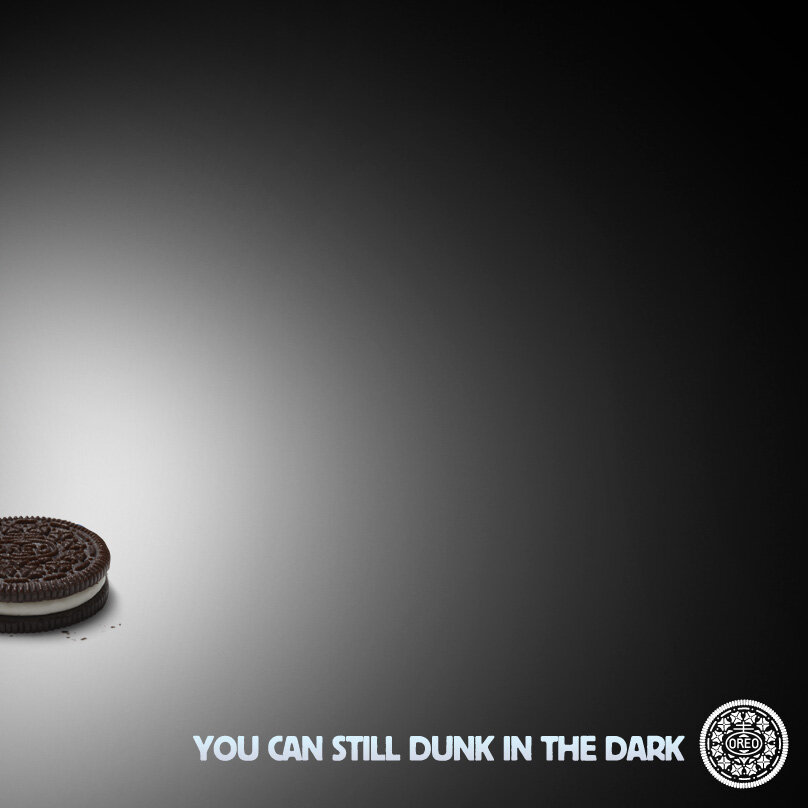 Their timing was perfect. The 34 minute power outage set Twitter aglow with an average of 231,500 tweets per minute according to Elaine Filadelfo from Twitter's media team. These are the moments when the power of Twitter as a giant community becomes apparent. From lighthearted conspiracies about Jake Harbaugh cutting the wires to jokes about Beyonce's electrifying performance (insert groan here!) everyone joined in the fun. Oreo's ad hit the mood spot-on– it was quickly retweeted over 14,500 times!
Retweets are the twitter goldmine for corporations! Think about it- if you see a sponsored tweet there's a strong chance you will probably ignore it. BUT what if your friend retweets a sponsored tweet to you? Suddenly that same tweet gains personality –you now know that your friend they it to be funny/insightful/useful, etc. and  you will be more likely to check it out. Moreover if you like it then you may choose to retweet it yourself. This is what happened last night with Oreo's tweet.
To be overly dramatic- last night Oreo was able to step outside of its corporate shell and mingle with the unwashed Twitter masses. This is the type of engagement that social media nuts drool over. Ironically, it is also the type of engagement that Coca-cola was attempting to stimulate last night through its astronomically expensive "Mirage" campaign. By all rights this should have been today's social media story. Coke created a "choose-your-own-adventure" style commercial that pitted three groups of characters- #CokeBadlanders, #CokeShowgirls or #CokeCowboys- against each other attempting to win an elusive Coke. [spoiler alert: the Showgirls won!] Coke utilized all of their social media accounts to post real-time updates as the race progressed and to urge fans to cast their vote.
Coke planned this campaign for months and it shows. I was actually quite impressed with the way that they tailored their campaign to the cultures of the individual social media platforms.
On their Facebook page they added their own twist to the popular "ERMAHGERD" meme 
Over on Tumblr they tried their hands at making a glitterbomb giff:
According to mashable, over the course of the campaign which started January 22nd, 1.3 million people visited cokechase.com and over 900,000 votes were cast.
Coke's goal was to generate engagement with consumers in a way that would continue throughout the year. If engagement is generating laughter then sure Coke succeeded. My hunch, however, is that their idea of engagement hits closer to mimicking some form of a fan base and I'm just not convinced that this campaign did that- or really could ever do that.
I would argue that Pepsi's behind the scenes spoof of the Coke Chase has probably generated a similarly amount of engagement for Pepsi as Coke Chase did for Coke. Coke's advertisement was too overworked. Just like early 1990s websites went overboard on the bouncy icons and early 2000s movies went nuts on the computer generated graphics so I believe the current use of social media tends towards the "more is always better" Lady Gaga effect. While these campaigns use social media tools – they are less likely to reap the unique benefits of social media– such as engagement.
To engage in social media is to be willing to step away from the corporate hubbub and rules of marketing. It is in the conversation. Coke attempted to generate its own conversation. Oreo decided to simply join in. It is as simple as that.